Future site of
Florida Detectives ~
Florida Association of Detectives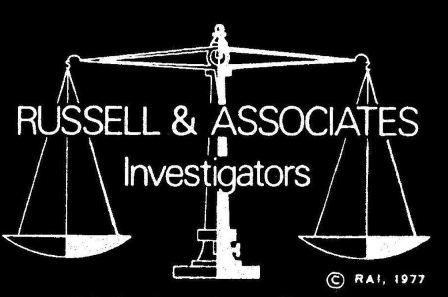 Orlando Florida Private Investigators ~ We level the playing field
ABOUT OUR AGENCY
RUSSELL AND ASSOCIATES is a professional investigative agency owned and directed by John L. Russell 3.
In 1973, at the age of 23, Russell became the youngest licensed investigator in the state of Florida. At 26, Russell was the youngest president of the Florida Private Investigators Association. Russell served as CEO for the Investigator Association for 10 years and lobbied for passage of state licensing reforms in 1980. In 1983 Russell formed the Bureau of Missing Children, Inc., a network of Private Investigators that donated their time in the location of thousands of missing children. Current Executive Director and lobbyist of the Florida Association of Detectives and the Florida Association of Diving Instructors.
Russell is a Martial Arts and Dive Instructor, (Course Director) and is the author of several books involving the Investigative and Recovery (repossession) professions.
In business in Florida 45 years.

---
FACILITIES
Cell phones for 24 hour communications. We have the best high-tech photographic and anti-surveillance equipment available. We are insured and bonded.
---
INVESTIGATIVE SERVICES
Accident Investigation ~ BodyGuards ~ Diving/Boating Accidents ~ Character Assessment ~ Liabilities/Assets ~ Civil Investigation ~ Photography ~ Credit Investigation ~ Studies & Surveys ~ Criminal Investigation ~ Computer Crimes ~ Cyber Bully Investigation ~Surveillance ~ DUI Defense ~ Undercover Investigation ~ Underwater Salvage & Recovery ~ Certified Process Service ~ Legal installation of GPS Tracking Devices
---
SPECIAL SERVICES
Arrest Records Checks ~ Utilities Checks ~ Employment Checks ~ Fraud Examination ~ Non-Published Phone Records ~ Motor Vehicle Checks ~ Postal Records Checks ~Driving Record Checks ~ Property Check ~ Credit Bureau Check ~ Non-Public Records ~ Repossession & Recovery - Scuba Training
---
PUBLIC RECORDS
Advanced Persons Search
Basic Search of public records to develop leads from information provided by client.
Comprehensive Report
Included in this report: Summary Report, Bankruptcy, Liens/Judgments, UCC Filings, People at Work, Phones Plus, Driver's Licenses, Vehicle Registrations, Property, Watercraft, FAA Pilots, FAA Aircraft, Professional Licenses, Florida Accidents, Voter Registration, Hunting/Fishing Permits, Concealed Weapons Permits, Associates, Relatives (3 Degrees), Neighbors, Criminal Records and Sexual Offenders
---
ABOUT OUR EMPLOYEES
In addition to being trained in-house, licensed investigative agents are required to complete special training. Our employees are trained continually in the most prudent and up-to-date investigative practices and are placed in the field most suited to their abilities. All of our agents are aware of the investigative laws. Enabling them to appraise any situation, making it possible to protect your interests and to avoid legal problems.
---
REFERENCES
The best endorsement of any agency is its continued and growing use by reputable progressive clients, large and small.
---
ASSOCIATIONS
We are members of the Florida Association of Private Investigators (Honored Lifetime Member), Regency International Investigators, Bureau of Missing Children (Founder), Florida Association of Diving Instructors (Founder), Associated Locksmiths of America and the Credit Bureau. Affiliates world-wide.
---
ADDITIONAL INFORMATION
Russell & Associates Investigators will supply you with any additional information you require.
---
HIRE RUSSELL AND ASSOCIATES
Email RussellPI@earthlink.net Send a request for service by email and we will send additional information.
RATES
On a case by case basis ~ Out of pocket at costs plus 10%
* No spam , no applications for employment or internship, please!
LICENSED BONDED INSURED
SERVING FLORIDA SINCE 1973 ~ LICENSE # A-567
Orlando, Florida

407-505-3483
View John Russell's profile
Orlando Florida Private Investigator Orlando Florida
OrlandoFlorida Private Investigator Orlando Florida
Orlando Florida Private Investigator
Orlando Florida Private Investigator Orlando Florida
Orlando Florida Private Investigator
OrlandoFlorida Private Investigator Orlando Florida
Orlando Florida Private Investigator
Orlando Florida Private Investigator Orlando Florida
OrlandoFlorida Private Investigator Orlando Florida
Orlando Florida Private Investigator
Orlando Florida Private Investigator Orlando Florida
Florida Private Investigator Orlando Florida
Orlando Florida Private Investigator
Orlando Florida Private Investigator Orlando Florida
OrlandoFlorida Private Investigator Orlando Florida
Orlando Florida Private Investigator
Orlando Florida Private Investigator Orlando Florida
Orlando Florida Private Investigator
OrlandoFlorida Private Investigator Orlando Florida
Orlando Florida Private Investigator
Orlando Florida Private Investigator Orlando Florida
OrlandoFlorida Private Investigator Orlando Florida
Orlando Florida Private Investigator
Orlando Florida Private Investigator Orlando Florida
Florida Private Investigator Orlando Florida
Orlando Florida Private Investigator
Orlando Florida Private Investigator Orlando Florida
OrlandoFlorida Private Investigator Orlando Florida
Orlando Florida Private Investigator
Orlando Florida Private Investigator Orlando Florida
ando Florida Private Investigator
OrlandoFlorida Private Investigator Orlando Florida
Orlando Florida Private Investigator
Orlando Florida Private Investigator Orlando Florida
OrlandoFlorida Private Investigator Orlando Florida
Orlando Florida Private Investigator
Orlando Florida Private Investigator Orlando Florida
Florida Private Investigator Orlando Florida
Orlando Florida Private Investigator
Orlando Florida Private Investigator Orlando Florida
OrlandoFlorida Private Investigator Orlando Florida
Orlando Florida Private Investigator
Orlando Florida Private Investigator Orlando Florida
Orlando Florida Private Investigator
OrlandoFlorida Private Investigator Orlando Florida
Orlando Florida Private Investigator
Orlando Florida Private Investigator Orlando Florida
OrlandoFlorida Private Investigator Orlando Florida
Orlando Florida Private Investigator
Orlando Florida Private Investigator Orlando Florida
Copyright 2016 Detective Captain 'Handsome' John L. Russell 3, Scuba Diving Expert and Freelance Underwater Investigator at Scuba Tampa ~ Tampa Scuba www.divefla.com www.orlando-scuba.com www.privateeyeflorida.com www.russellpi.com www.scubaorlando.net www.scubacrystalriver.com www.scubadiveorlando.com www.scubadvice.com www.scubafla.com www.scubagainesville.com www.scubaorlando.net www.scubastpetersburg.com www.scubatampa.com www.scubatarponsprings.com www.sunsationdivers.com www.sunsationdivercharters.com www.tampa-scuba.com www.tampascuba.net www.tampascubadiving.net
All prices subject to change